HOW FEDERAL JOBS ARE FILLED

Drafting an effective super-specialized federal resume to meet current federal hiring and OPM requirements, one that will standout and actually be carefully read and seriously considered by human resources specialists who are overwhelmed with resumes and considered by hiring officials takes expert knowledge of federal personnel laws, as well as the federal hiring and selection processes. To complicate matters, each federal agency has their own hiring policies and procedures. Today, simply listing your experience, training, awards, qualifications, knowledge, skills and abilities, etc., on paper no matter how good you think they are is generally not enough to secure a highly competitive federal job. With good paying jobs harder and harder to find, more and more people are turning to the federal government for its benefits, job security and diversity of work and career advancement opportunities. Each of our expert editors are private consultants in their own right; having actually worked for the federal government themselves, each of our editors has the requisite knowledge, skills and abilities in virtually every facet of federal employment to effectively help any federal jobseeker applying to any federal position within the federal government.
COMPETITIVE AND EXCEPTED SERVICE

There are two classes of jobs in the Federal Government: 1) those that are in the competitive civil service, and 2) those that are in the excepted service.
Competitive service jobs are under OPM's jurisdiction and subject to the civil service laws passed by Congress to ensure that applicants and employees receive fair and equal treatment in the hiring process. These laws give selecting officials broad authority to review more than one applicant source before determining the best-qualified candidate based on job-related criteria. A basic principle of Federal employment is that all candidates must meet the qualification requirements for the position for which they receive an appointment.
Excepted service agencies set their own qualification requirements and are not subject to the appointment, pay, and classification rules in title 5, United States Code. However, they are subject to veterans' preference. Some Federal agencies, the Federal Bureau of Investigations (FBI) and the Central Intelligence Agency (CIA) have only excepted service positions. In other instances, certain organizations within an agency, or even specific jobs may be excepted from civil service procedures. Positions may be in the excepted service by law, by executive order, or by action of OPM.
SOURCES OF ELIGIBLES

In filling competitive service jobs, agencies can still generally choose from among 3 groups of candidates:
Agencies make selections from within the highest quality category regardless of the number of candidates (i.e., the rule of three does not apply any longer). However, preference eligibles receive absolute preference within each category. If a preference eligible is in the category, an agency may not select a non-preference eligible unless the agency requests to pass over the preference eligible in accordance with 5 U.S.C. § 3318, and the request is approved. If there are fewer than three candidates in the highest quality category, agencies may combine the highest category with the next lower category and make selections from the merged category. The newly merged category would then constitute the highest quality category. Preference eligibles must be listed ahead of non-preference eligibles in the newly merged category. Once again, as long as a preference eligible remains in the merged category, an agency may not select a non-preference eligible unless the agency receives approval to pass over the preference eligible in accordance with 5 U.S.C. § 3318.
A list of eligibles who have civil service status consist of applicants who are eligible for noncompetitive movement within the competitive service because they either now are or were serving under career-type appointments in the competitive service. These individuals are selected under agency merit promotion procedures and can receive an appointment by promotion, reassignment, transfer, or reinstatement.
A list of eligibles that qualify for a special noncompetitive appointing authority established by law or executive order. Examples of special noncompetitive appointing authorities include the Veterans' Readjustment Appointment (VRA), the special authority for 30% or more disabled veterans, and the Peace Corps.
Agencies in the competitive service are required by law and OPM regulation to post vacancies with OPM whenever they are seeking candidates from outside their own workforce for positions lasting more than 120 days. (Agency, in this context, means the parent agency -- i.e., Treasury, not the Internal Revenue Service.) These vacancies are posted on OPM's USAJOBS and posted with State Employment Service Offices.
The vast majority of our customers contact us after finding vacancy announcements they want to apply to on USAJOBS, the Federal Government's Employment Information System. Once a suitable number of vacancy announcements are identified by the federal jobseeker, the appropriate staff expert editor with specialized knowledge of the target agency and position is assigned to create an effective federal resume for that particular agency's hiring officials. We know the key is getting your foot in the door, once "you're in," it's relatively easy to transfer or lateral within the federal system. Our concern is getting you in, once "you're in" the federal system, we properly update and revise your federal resume for free throughout your entire federal career! AND, our commitment to you does not stop there, as a FEDeral Resume Experts' customer, you will be entitled to the following free federal jobseeker services, all at NO COST:
Free updating and revising of your federal resume for life!
Free Federal interview and job search coaching
Free access to the federal jobseeker newsletter
Free Federal employment tips & help 24 hrs 7 Days a week
Free cover letter with every order (limit one per order)
Free thank you letter with every order (limit one per order)
Free access to your expert editor 24 hrs 7 Days a week
AREA OF CONSIDERATION
The area of consideration is listed on the vacancy announcement and is the source from which the agency will consider candidates. The agency may designate whatever area of consideration it considers appropriate. A candidate who is outside the area of consideration will not be considered.
VETERANS' PREFERENCE
Veterans' preference recognizes the economic loss suffered by citizens who have served their country in uniform in times of strife, restores veterans to a favorable competitive position for Government employment, and acknowledges the larger obligation owed to disabled veterans. Historically, Congress has reserved preference for those who were either disabled, who served in combat areas or during certain periods of time.
Veterans who qualify as preference eligibles (meaning they typically must have served on active duty for at least 2 years during a period of war or in a campaign or expedition for which a campaign badge is authorized, or be disabled) are entitled to an additional 5 or 10 points added onto their earned rating in a competitive civil service examination. In all other situations (for example, selection from a merit promotion list or other "internal" action such as reassignment, transfer, or reinstatement), veterans' preference is not a factor.
Veterans' preference was intended to give eligible veterans an extra assist in getting a job with the Government and in keeping it in the event of a reduction in force. Veterans' preference does not guarantee the veteran a job. Veterans' preference should not be confused with the special appointing authorities such as the VRA, which allow eligible veterans to be appointed noncompetitively to the competitive service.
THE VETERANS EMPLOYMENT OPPORTUNITIES ACT (VEOA)
This act gave veterans who qualify as preference eligibles and veterans with 3 or more years of continuous active service access to jobs that might otherwise be closed to them. When an agency advertises for candidates outside its own workforce under merit promotion procedures, it must allow these veterans to apply. Of course, all applications are subject to any area of consideration that the agency has specified on the vacancy announcement. Thus, if the agency will only accept applications from status candidates within the local commuting area, veterans who are outside the commuting area are not eligible. AS OF: 10-30-00
---

Understanding the Federal Hiring Process
Federal jobseekers ask us all the time, "why should I pay for a resume writing service when I can write my own Federal resume?" Answer: Anyone can write a resume or input his or her information to create a resume, but unfortunately not everyone who submits his or her resume to the Federal government gets a Federal job.  While no one can legally guarantee you a Federal job, Federal employment is easily attainable provided you have a thorough knowledge of the Federal hiring process and know how to write an effective Federal resume for the applicable vacancy announcement and for the particular Federal agency, WE DO!  A properly formatted and worded Federal resume, which matches the targeted Federal agency and its dynamics, is as important as a properly written KSA to get a Federal job.  Not unlike people, all Federal agencies are not alike.  Each agency has its own mission and therefore its own dynamics.  You do not, meet, greet, and speak to everyone you encounter on a daily basis the same because every situation is different and requires special handling; the same logic applies to the Federal application process.  The only thing that should remain constant is change, not your Federal resume.  Nor should you submit the same Federal resume for each vacancy announcement.  This is the #1 mistake made by Federal jobseekers!  Automated hiring systems, like the one the U.S. Office of Personnel Management (OPM) utilizes to help candidates applying for Federal jobs, do not hire people, people do. Understanding Federal agencies, their people and the Federal hiring process is what we do.  OPM's automated hiring system is merely used to "identify" a pool of candidates through a cookie cutter approach that leaves every candidate's application "looking" exactly the same.  However, people must still determine what attributes automated hiring systems will measure, determine how these systems will measure those attributes, monitor the operation of these systems, and ultimately make selection decisions.  Although every Federal hiring official is responsible for complying with applicable OPM rules and regulations, each Federal agency is responsible for their own hiring processes.  Understanding Federal agencies, their people and the Federal hiring process is what we know.
Under Federal law, agencies make selections from within the highest quality category regardless of the number of candidates (i.e., the rule of three does not apply any longer). Once a hiring panel has rated and ranked the candidates and applied applicable veterans' preference points, the panel begins calling best qualified candidates in for an interview.

If a candidate with veterans' preference is on the list, the selecting official cannot by law pass over the veteran and select a lower ranking candidate without veterans' preference unless the selecting official's objection to hiring the veteran is sustained by OPM. 5 U.S.C. Section 3318. However, this rarely happens and the candidate with veterans' preference is normally selected over the non veterans' preference candidate.  This leaves the typical candidate in direct competition with potentially hundreds of other candidates with similar backgrounds and often times similar looking Federal resumes when a candidate uses an automated hiring system like OPM's.  Unless you are familiar with each agency's hiring processes and are generally aware of what hiring officials in each Federal agency typically look for in candidates to fill positions within their Federal agency, you have no discernable advantage over any other candidate applying for the same Federal position when you write your own Federal resume or use an automated hiring system like OPM's.  Understanding Federal agencies, their people and the Federal hiring process is what we know best.  FEDeral Resume Experts specialize in one thing, writing effective federal resumes that get results!
---
The following charts outline the general Competitive Examining Process methodology for filling Federal job vacancies: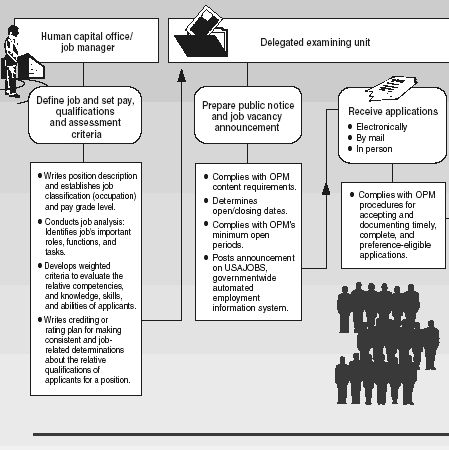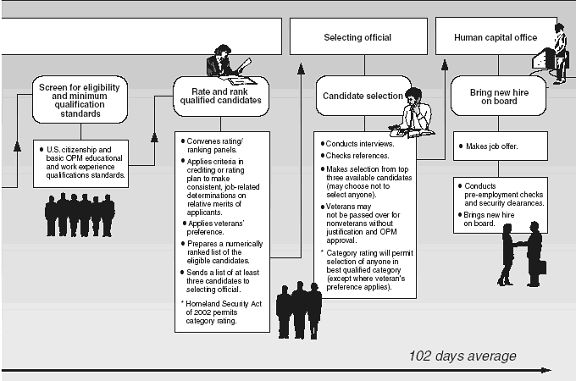 A monthly publication courtesy of the Federal Resume Experts® Staff
ALL RIGHTS RESERVED